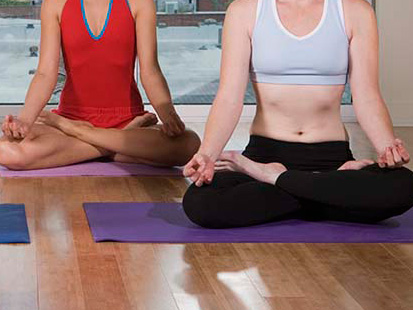 Happy Saturday Everyone!
I had yet another kick-butt session with Trainer Debbie. She totally kicked my brain in. I find that she is a bit of a fib job though. She tells me at least 10 times that the set I am working on is going to be the last set. I finish, then she has me doing something else. I told her that I am starting to see the asterisks after her words, and the 10 pages of disclaimers that are sure to follow. However, I did do all she wanted me to do. She pushed me. I got there.
I also took something called a
VO2 Max
(Maximum Oxygen Consumption) test. This is a test that measures that amount of oxygen my body can use while I am at my maximum effort. Basically, you march on the treadmill till you can't take it and have to stop. The machine measures your oxygen, heartrate and breath. I did not love the machine, as it was a big face mask. I kind of felt like I couldn't breathe normally. I think maybe I was just feeling a bit closterphobic. Anyway, I scored in the low-fair category of fitness. I am not surprised. I have a long way to go. What I like about the test is it can tell me more accurately how many calories I burn on average when I hit certain heartrates. That is super cool. Has anyone ever taken this test?
This morning, I woke up early. I got caught up on a lot of your blogs and just enjoyed the crispness of the morning. The temperature has dropped about 10 degrees today and I think it is going to rain a bit.
Sidenote: I am in love with frozen berry mixes in my oatmeal this morning. I just nuke those puppies and they get all warm and super yummy. I just lay a cup of them in my oatmeal and it is just so good. Can you tell I am eating breakfast?
So, here is the question: should I add some yoga into my fitness? Does yoga count as a good workout, or is it just recovery? There is a class this morning at a local studio, and I am toying with going. Is it like a day off? I have done yoga before and it definitely can get your heart moving, but it isn't the same as a huffing and puffing at the gym. What do you think? How do you rate yoga in your fitness routine?
*image*abcnews.go.com*